Why F-Secure
The Best Protection for Windows Computers
4 years in a row: AV-Test has recognized F-Secure with Best Corporate Protection award for Windows endpoint products.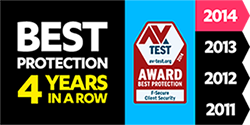 Protection proven by independent research
AV-Test is a leading international and independent service provider in the fields of IT security and anti-virus research. Their testing methods are proven to be objective and thorough, always taking into account the latest developments in cybercrime and AV technology. And, it is the source others, like industry magazines, look upon for test results.
More than just anti-virus software
Internet security is just one aspect of protection. In today's business, you need prevention against unknown threats as well as known vulnerabilities. We combine both in our offering. Automated software updates keep your environment up-to-date and safe against known vulnerabilities, while behavior-based, proactive protection technologies safeguard your business against new and emerging malware.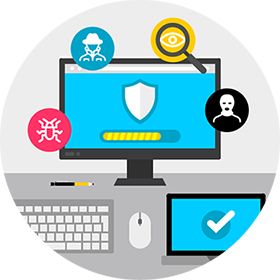 Keeping you safe at all times
The Best Protection award from AV-Test is not just a one-off arbitrary award. It is based on excellent performance in their monthly tests throughout the year 2014. F-Secure consistently received top results in protection, always staying ahead of new and emerging threats. This proves we have mastered what it takes to secure companies. To you, this means you can be assured that your business stays safe and secure from all online threats.