F-Secure Business Suite

The easy way to security and simplicity

Two versions to suit your needs:
Now with Connection Control, Web Content Control and Advanced Protection, Business Suite offers more control over security and productivity. It provides all the best in F-Secure privacy, security and management in one seamless package.
Comes with Software Updater that offers an additional layer of protection by keeping your operating system and 3rd party applications up to date and patched from vulnerabilities.
Overview:
Get the Best in Business Protection
Business Suite is an on-premise business security solution with advanced security management features suitable for businesses of all sizes with demanding high security requirements
Much more than just anti-virus protection, Business Suite is a complete protection package that secures everything from gateway to endpoints against known vulnerabilities and emerging 0-day threats.
Everyone is a target
The threat landscape has changed. If your business has data or money, you're a target. Cyber crime is now a big, highly sophisticated business—and getting bigger every day.
About 80% of cyber attack victims are under-protected targets of opportunity. All the same, new threats are discovered daily. That's why up-to-the-minute detection matters. F-Secure protects millions of customers worldwide from emerging threats within 60 seconds of detection anywhere around the globe.
Make Complete Protection Automatic
If you're like most businesspeople, you don't want to spend all your time trying to keep the bad guys out. You need a solution that's simple to use, updates automatically and has minimal impact on system performance.
Highlights
On-site solution for high-security demands
Advanced management features for demanding IT environments
Covers the essential parts of security - protection against known vulnerabilities as well as new, emerging threats
Support for both physical and virtual environments with one central management tool
Provides security from gateway level to endpoints
Products included:
The products of Business Suite can be acquired separately, or bundled into ready-made packages.
Compare Versions
Business Suite Standard
Business Suite Premium
Virus & Spyware Protection
DeepGuard
Web Traffic Scanning
Browsing Protection
Offload Scanning Agent
Advanced Protection
Anti-Virus for Microsoft Exchange
Spam Control
HTTP Traffic filtering with Internet Gatekeeper
Web Content Control
Connection Protection
Software Updater
Anti-Virus for Microsoft SharePoint
Support for Virtual Desktops and Servers (SRS)
EMC CAVA Support
Features & Benefits:
Choosing the right business IT security is often a difficult task that requires going through endless options. F-Secure Business Suite takes the opposite approach: all essential components are included in one solution that can be flexibly scaled to fit companies of all sizes.
Business Suite offers proactive protection which prevents users from ever coming into contact with hostile content so that your data security not compromised. F-Secure Business Suite offers complete protection for the network, easy license management and less time required for administration.
Great value for investment
Thanks to latest in-the-cloud technologies, real-time security updates are available globally within 60 seconds of a confirmed new threat. Automatic daily virus, spam and spyware updates with minimal bandwidth use ensure up-to-date protection. To ensure fast reaction times against new and emerging threats, F-Secure Security Lab works 24/7 to study the threat landscape.
Forerunner in data security
F-Secure Business Suite includes award-winning components ensuring protection for your business you can rely on. F-Secure has been in the industry for more than 20 years and has been showing the way with several innovative industry firsts, like real-time scanning, centralized management, rootkit detection, mobile security, security as a service, in-the- cloud real-time protection network, and protection against web exploits.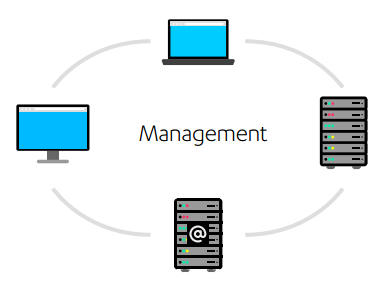 Modern malware can break into computers even if there are up-to-date security components installed. F-Secure is the first antivirus vendor in the world to release a real- time protection network that enables global protection within seconds from the first confirmation of a new threat. This is based on F-Secure DeepGuard, a technology that uses "in-the-cloud" computing to provide instant protection against new threats.
Comprehensive protection for all its assets
F-Secure Business Suite components are optimized to be light for minimal impact on system performance. Using and updating are designed to be as simple as possible, while meeting even the complex requirements of large and small companies.
Business Suite comes with all the latest features including reliable end-point protection for all levels of the corporate IT infrastructure: Desktops, laptops, servers, and e-mail and web traffic. The solution is simple to install and use. F-Secure Policy Manager, our efficient central management tool, is part of the Business Suite package.
Business Suite Elements
Business Suite protects the whole environment and offers a central management tool. This all makes IT security simple.

Workstations and laptops
Client Security
Anti-Virus for Workstations
Linux Security Client Edition

Central management tool

Servers
Server Security
Linux Security Server Edition

E-mail and web filtering
E-mail and Server Security
Internet Gatekeeper
Benefits
Control Your Business Security
With Business Suite you get total security and peace of mind. The powerful control and management features allow you to manage security according to your own security policies and guidelines.
Easy to manage
Excellent administrator control and reporting
Increased security through browsing controls that reduce human error
Airtight, end-to-end security
Much More than Malware Protection
Designed for both physical and virtual environments, Business Suite provides granular central management and layered protection from gateway to endpoint.
Laptop & desktop protection for physical and virtual environments
Email, Web & FTP protection
The full range of server protection
Automatic software updates
Products:
Policy Manager
Policy Manager is Business Suite's nerve center. It's a powerful central management tool that provides superior control and manageability for demanding environments. Policy Manager enables administrators to:

Keep all levels of IT infrastructure safe with automated updates
Centrally define and distribute security policies and monitor the company's overall security
Automate patch management with Software Updater
Manage both physical and virtual environments with one tool

Client Security
Client Security provides award-winning endpoint protection for computers running Windows. It is uniquely able to provide impenetrable protection against all online threats while minimizing impact on system performance. Endpoint protection is at the core of cyber security, and this is the best of the best.

Get award-winning, multilayer security for desktops and laptops
Protect your company against 0-day vulnerabilities with DeepGuard, our proactive on-host protection engine
Keep OS and third party software patches up-to-date Enjoy complete protection with minimal impact on system performance

Server Security
Servers store sensitive, mission-critical data. That's where Server Security comes in, to protect your networks and data against spam, modern Internet threats and all types of malware. Server Security protects all types of servers: Microsoft Windows servers, Citrix and Microsoft terminal servers.

Benefit from proactive security, including DeepGuard's behavior analysis, which efficiently identifies and intercepts malicious behaviour
Protect your business environment against harmful websites and browser attacks with Browsing Protection
Manage this additional layer of protection with the integrated Software Updater

Email & Server Security
In addition to all the features in Server Security, Email and Server Security offers additional protection for Microsoft Exchange servers, Microsoft SharePoint servers and EMC storage. Highlights include a Microsoft SharePoint component with advanced anti-malware, as well as a Microsoft Exchange component with advanced anti-malware and highly accurate spam filtering.

Secure sharing and collaboration systems with best available protection
Get all the functionality of Server Security, plus additional features for email and collaboration
Benefit from scheduled and on-demand scanning, anti-spam and browsing protection

Virtual Security
Scanning and Reputation Server offloads CPU-intensive scanning to a dedicated and secure virtual server, optimizing performance and security. It offers multilayer technology for virtual desktops and servers. Scanning and Reputation Server is a core element in Security for Virtual and Cloud Environments.

Protect all popular virtualization platforms with one solution
Securely protect public and private clouds in VMware, Citrix and Microsoft Hyper-V environments
Deploy the hypervisor-agnostic solution in any virtualization environment (VI or VDI) Reduce memory, CPU and disk space consumption on virtual machines

Internet Gatekeeper
Internet Gatekeeper provides high-performance protection at the gateway level. It leverages the firepower of F-Secure's Security Cloud to scan all incoming/outgoing HTTP traffic for all types of malware discovered worldwide within the last 60 seconds.

Protect your environment against malware in mail, browsing and file transfers
Deploy essential gateway level protection in an easy and flexible manner
Block ActiveX/Script (JavaScript/VBScript)
Filter spam and harmful contents from emails using different criteria and spam identification headers

Linux Security
Linux Security provides protection against unauthorized access within the corporate network, with integrity checking for endpoints and servers alike. You, and only you, decides who has access to the system.

Achieve extensive security for Linux environments with malware scanning on mail servers, Web servers and file servers as well as endpoints
Leverage real-time, manual and scheduled scan capabilities right out of the box
Benefit from best detection rates Protect your mixed environment against Windows malware